If one translates Zeiträume word by word it would be Time for Zeit and Spaces for Räume.
The Space (room) and circumstances of a presentation are important. I try to find the proper spaces for my ideas. Or the other way around find the right concept for a space.
Even more important in my eyes is the aspect to give the public the chance to experience the space and himself in it. This occurs to myself as well.
There are no imaginable borders for this aspect.
Time is the other important part of Performance. It makes a different to watch an artist for a few minutes or expiring his present in a room for hours.
An aspect of time is also in witch way the artist is interacting with his public.
Both together Space and Time are forming a occurrence. An Zeitraum.
The ribbon
(shown 2012 and 2013 as part of MPA open performance Marathon, acud, Berlin)
Step one:yoto connected everyone by handing out the ribbon.
Step two: Yoto takes earplugs to take her ability to hear away and taping her eyes shot with bandage.
Step three:yoto takes the ribbon. The ribbon leeds her - blind and death - to every hand.
Statement:>"i did feel quit lost in darkness and silence. It was a cold fearful feeling, only interrupted by the warmth of one hand after the other. And yet it had been a surprisingly save feeling as you feel a whole group is looking after you." yoto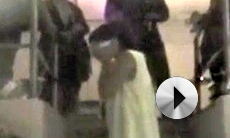 Kissing a room goodbye(2004)
situation: yoto is sitting behind a wall of artificial material, which shines in an artificial light. It is impossible to watch her clearly. - you only see a shadow. "I wanted to show that there is a gab between mens impression of a person and the reality of that person. You only see a shadow means you will never see the whole person with all its inner realities."
"Fortune of Cookies" 2014
For the Evening of Wishes, yoto created this performance called "Fortune of Cookies". A box that was filled with 48 furtune cookies was placed at the stage, yoto opened each one, read it out loud to the public and than crumbled the cookie; almost like a improvised poem.
Some of the cookies where dedicated to people in the audience, and some were to everyone. This performance was also part of an auction where people could bid on the left-overs of performances. So the box with the crumble of the fortune cookies was given to the highest bider, with the following letter.
"I saw an angel lost his wings"
"I saw an angel lost his wings" is a project seeking answers to the following questions: Do angels exist? How do we find evidence of their existence? What happens if one angel puts his feet onto earth? Does he have to go down to earth, in order to rescue a human being, and if he does so, does he lose his wings? If once he lost them, can he get them back, or does he have to lead the life of a human being? Would that be too high price? Furthermore...Do all angels have wings? What happens if an angel looses their wings? Could they learn something out of it? Can an angel rescue a human being by losing their wings, and then continue living as a human being? How often does this happen? Would they become an angel again at the time they die, or do they give up the status of angel for good? Could they rescue someone from death in this manner? have no answers to all these questions. Maybe you do? Please send your answers or even just theories to yoto@meinzeitraum.de To raise these questions I will place pieces of papers with the following sentence, "I saw an Angel lost his wings" in different citys, starting with New York City, during the period of 28th August, till 10th of September 2014. It will be 96 pieces per city.
Black thoughts by yoto (may 2016)
One morning yoto woke up feeling a little wierd. She could not describe this feeling. When she looked up above her there was a black cloud. She figuered this must be black thoughts – these must be the reason for her to feel so unwell. So she got up and went outside hoping that these black thoughts would just diapaer, but they did not. She stood at a market place wondering what to do. She felt very unhappy at this time, and the heavy cloud floated above her head. After a while passers by started approaching her, asking her how she feels . I am having black thoughts. Oh, where do they come from? I don't know. They have been there since I woke up. What can I do? Can I help you? Maybe if you give me one good thought, we could pop one of the black ones...
Melody of...
...New York - Poznan - Berlin...
...is an ongoing project which I hope to be able to present in many different places.
Yoto will welcome everyone to this evening of research of the moment.
Yoto will explain where the higher notes are and the lower notes. As well as how to find off beat and on beat on the strip.
Further on yoto will talk about high and low notes as in music in comparison to high and low times or feelings. This will lead her to talk about high or low times in life in general as well as in different areas of life. For example work and business verses family and relationship. She will also talk about on beat and off beat. Like good times in which everything goes on beat and bad time in which nothing goes together and it feels of beat.
At the end of her talk yoto will ask everyone to take some time to define their position at this very moment and set the notes on the strip accordingly.
Like choosing a certain time-frame, your time in this city since you arrived, or just this very day. Everyone will be given a strip for the music box.
Depending on the size and mentality of the group, people will punch the stripes quietly and privately, and all at the same time (as a larger group), or one by one, and may tell the others about their ups and downs of that day or moment. (smaller group). These strips will than be put together to create a melody of the moment which will be played and morphed by yoto. By presenting this piece at different places, yoto will over the long run collect a number of melodies from many places. This will be a collection, such as a mirror of where people from different places are positioning themselves.